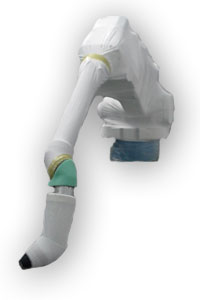 T3 Products is proud to announce that we have parternered with RJ Hanlon Company and now offer a complete line of robot covers. Offering creative solutions to the frustrations associated with paint robotics, such as proper sizing, materials and change-out scheduling, we have parterened with the industry's leader to bring the quality to you! .
Our Sales Engineers are knowledgeable when it comes to current robot manufacturers and models.
We are experienced in working with such industry leading robot manufacturers as ABB, DURR, FANUC, Kawasaki, Kobelco, Kuka, MotoMan, Nachi, Reis, Staubli, Tokiko.
Some existing robot cover models include:
ABB Robot Covers
DURR
 Robot Covers
FANUC Robot Covers
Kawasaki Robot Covers
KUKA Robot Covers
Motorman Robot Covers
NACHI Robot Covers
Reis Robot Covers
Staubli Robot Covers​
.